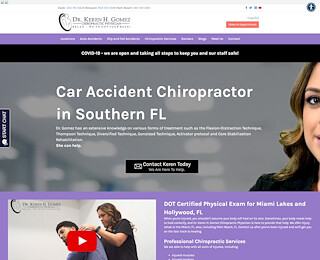 It doesn't require a major reck for you to feel major pain after a car accident. Even "routine" fender benders can cause our bodies to snap and jerk and twist in ways that they're just not supposed to. More times than not, individuals tense up right before and during an impact, which can enhance the probability of pain and injury. If you've gone to a doctor and they couldn't find anything wrong with you following a car accident, it may be time to seek out a competent car accident chiropractor in Miami. Dr. Keren H Gomez Chiropractic invites you to visit auto accident rehab today and get the treatment you need.
We Can Work with You and Your Personal Injury Attorney
Just because a doctor can't come up with a medical diagnosis doesn't mean your problems aren't real. You may have missed work because of your pain, and you may be seeking just compensation due to damages that you've suffered as the result of a car accident. Dr. Keren H. Gomez can work you and your personal injury attorney to help you put together your insurance claim. We can assign names to the pain that doctors often can't. More importantly, we can help you feel better after a car accident!
Chiropractors Can Help Car Accident Victims
You may be thinking, "I don't need a doctor, I don't need a chiropractor. My injuries will heal naturally." Unfortunately, that's not always the case! Some injuries actually get worse over time! By not getting treated, your problem can grow from a minor one to a major one. Plus, if you do have a personal injury claim as the result of a car accident, the insurance company is going to want to know what steps you've taken to get diagnosed and get treated.
Dr. Keren H Gomez Utilizes the Best Chiropractic Treatments
At our accident rehab clinic, we use industry-leading technology to find out what's wrong with our patients, and we utilize cutting-edge treatment techniques that can alieve your pain, get you adjusted, and have you feeling like yourself again. For example, Dr. Gomez specializes a number of treatment techniques that you may or may not already be familiar with. For example, you might benefit from the following chiropractic treatment techniques:
Flexion-Distraction Technique
Thompson Technique
Diversified Technique
Gonstead Technique
Activator Protocol
Core Stabilization Rehabilitation
How to Get Started
The first thing you should do is schedule a consultation. You can do that on our website by finding an available appointment or by giving us a call during normal business hours. Schedule your appointment with Dr. Keren H. Gomez today, the most trusted car accident chiropractor in Miami! Get the pain relief you need after a car accident, and begin to put the pieces of your insurance claim together with expert clinician diagnosis, treatment, and witnessing. The sooner you schedule, the sooner you'll feel better! Keren H. Gomez is an experienced car accident chiropractor in Miamia who deals with car accident patients all the time!
car accident chiropractor Miami
Dr. Keren Gomez
305-761-6528
12550 Biscayne Blvd Suite 404
North Miami
FL
33181
View Larger Map